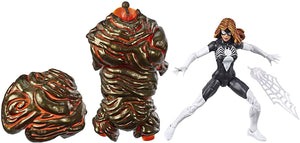 Spider-Man Marvel Legends Series 6" Spider-Woman Collectible Figure
Regular price $20.99 Sale
6-Inch scale collectible Spider-Woman figure – Imagine Julia carpenter spinning psionic webs as the web-weaving Super hero, Spider-Woman, with this high quality 6-inch scale Spider-Woman figure.

Marvel comic-inspired design and character-inspired accessory – kids and fans alike can appreciate this premium Spider-Woman figure and accessory, inspired by the character from the the Marvel Comics.

Premium articulation and detailing – Marvel fans and collectors can appreciate this highly poseable Spider-Man Legends series Spider-Woman figure, featuring premium deco.

Build a figure - collect figures in this Marvel Legends series build a figure collection to assemble an impressive build a figure! Additional figures each sold separately. Subject to availability.

Marvel universe in 6-inch scale – look for other comic- and movie- inspired Marvel Legends series figures to build a Marvel universe. (Figures each sold separately. Subject to availability).